Essay About Traveling Alone
One of the most common excuses that I hear from people that want to embark on some sort of trip is: I would love to travel, but I have no one to travel with.
Someone smart said long time ago – If you wait for perfect conditions, you will never get anything done. I agree with that one. But also, I disagree that starting to travel with a companion is a perfect condition.
Its almost impossible to find a compatible travel companion, especially at the beginning, when you have no idea how will you behave on the road and what you actually want from your travels. At the beginning it all comes down to two choices: do we want to travel alone, or not travel at all?
Because of that, I started traveling by myself. Not because I wanted, but because nobody wanted to join me. At least not in my own way. And on those first trips I discovered that traveling alone has bunch of advantages.
With time I had some travel companions join me on the way, and in the last two years I have been traveling with only one person beside me. And on those trips I discovered that traveling with a companion has bunch of advantages.
And I think that's it, you should try both ways – maybe to start alone, and with time allow others to join you. Like in relationships: you should know how to be with yourself and love yourself, so others accept and love you.
Since traveling solo and with someone are two different worlds, both have advantages and disadvantages. Advantage of one is very often the disadvantage of the other one, and vice versa.
So let's see.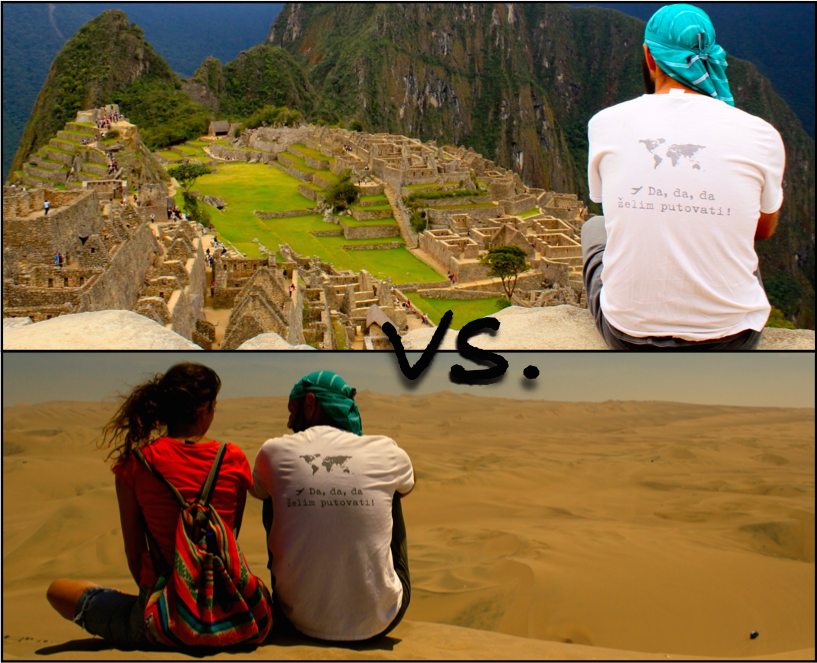 SAFETY
Its a lot harder to embark on a trip when you are alone. We are scared of things that can happen in an unknown environment: diseases, being broke, dangerous places/people, loneliness. We are convinced that it would be much easier if we had someone with us. And we are right. Its easier with someone by our side.
But, looking for an easier way is not always the right way. Ask any entrepreneur, artist, athlete, or traveler – the view is more beautiful from the top of the mountain when you make it on your own. Ask yourself – how many things you would never do if you didn't have to do them by yourself, often going with your head against the wall?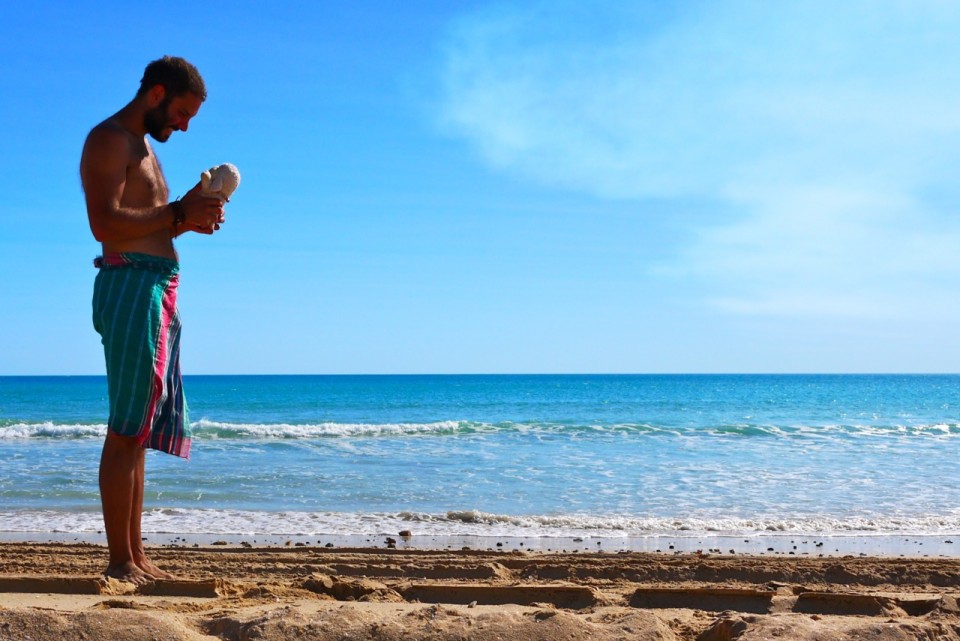 Yes, its very possible that its more safe to travel with a companion (not in my experience though, only time I was mugged was when Maria joined me in Peru), but no matter are you traveling alone or with someone, you have to be careful and obey the laws of logic and common sense. Safety above all.
FREEDOM
Traveling alone sounds very exciting and adventurous, and it mostly is. You don't have to wait for anyone, make any arrangements, you don't have to adjust or justify to anyone, you are creditable for all beautiful things that happen on the way. You cook for yourself, wash your clothes, spend time with yourself. Traveling alone is a great path to being independent. Great way to love you own company. To experience freedom, true freedom.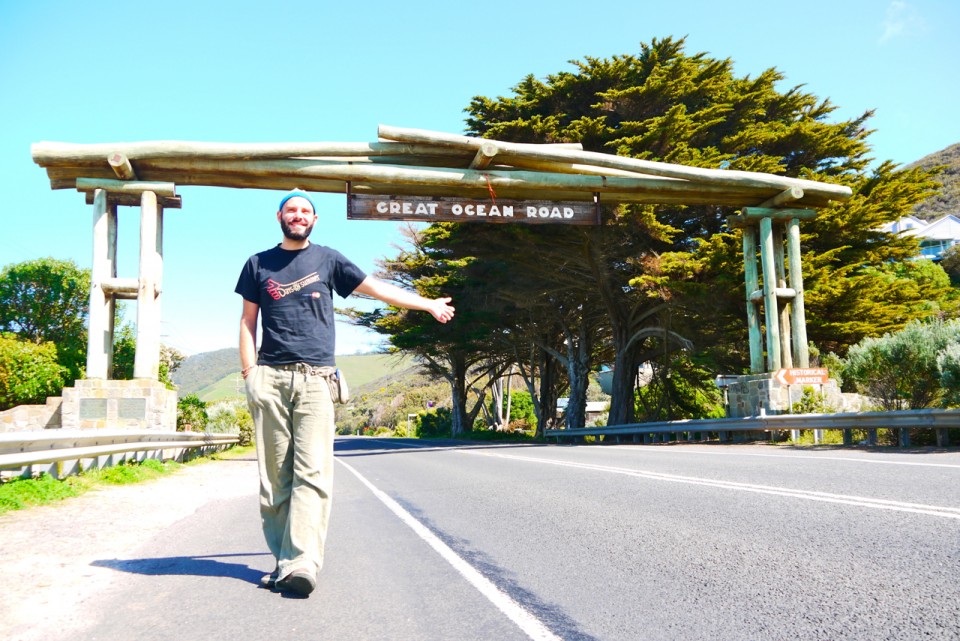 If you wake up in the morning and you want to head towards the east, you head towards the east. If you want to lay on the beach all day long, you can do that without being terrorised by someone with their plans and expectations. If you want to stay in one place for weeks, you are free to do that. Even if you make a mistake, you will learn from them.
Traveling with someone, on the other hand, sounds easier, simpler and safer – you always have someone to rely on. Someone to share the stories and experiences with. Someone who is there in good and in evel, who will understand you. Also, you won't have to cook alone, wash your clothes, and spend time with yourself – you will have time to meet the person next to you. It won't be hard to sacrifice part of your freedom because you made a choice to have someone by your side, 25 hours a day.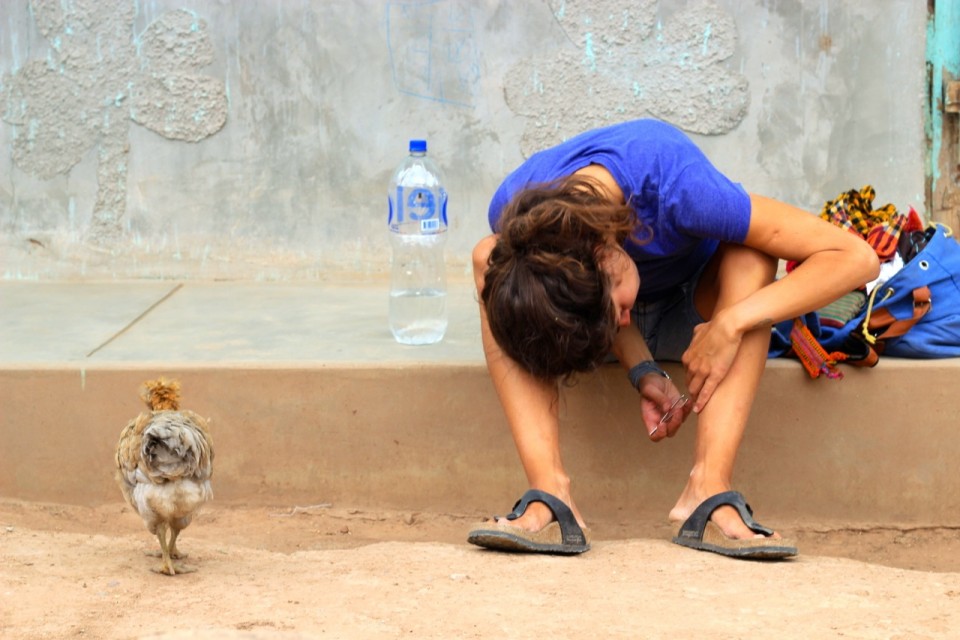 All decisions you make you will make by agreeing, understanding and compromising. You will learn that, even though it sounds amazing to make all your choices by yourself, that there are moments when others are smarter. That there are moments when others know you better than you know yourself. Lastly, you will learn to coexist, a valuable life lesson.
COMMUNICATING WITH PEOPLE
When you travel alone, you are forced to make contact with many people – you start conversations with random people on the road, you spend a lot of time with your hosts or with fellow travellers. Being alone will motivate others to approach you more often and its much easier to make contact with locals. Even though you are traveling alone, you are never alone.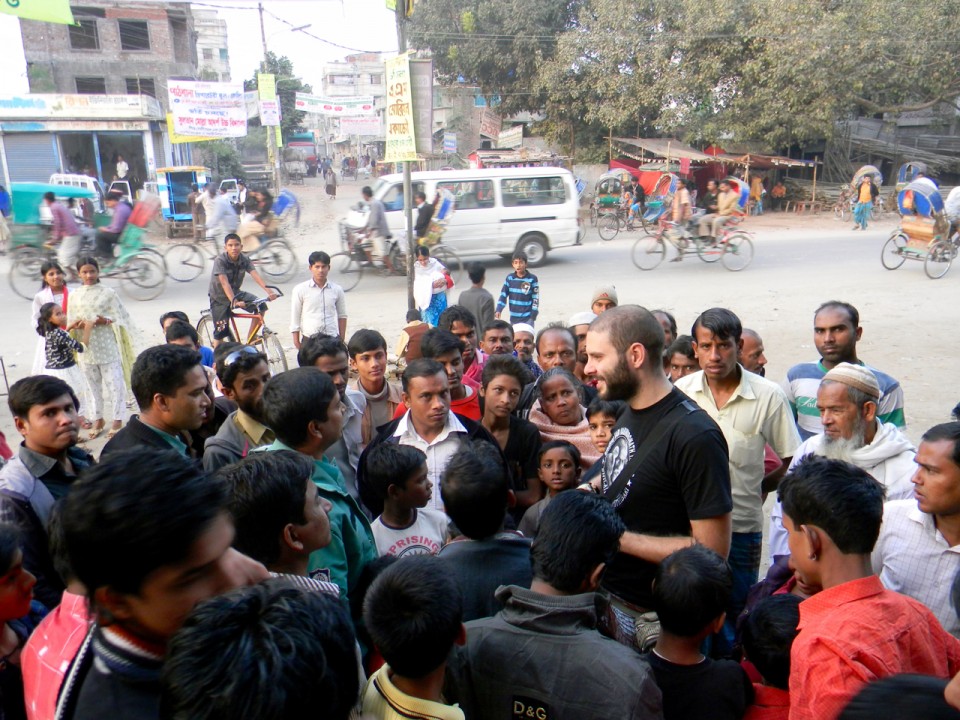 The excitement of communicating/seducing/flirting with people of opposite (or same) sex is there – you are alone, traveling, tomorrow you will probably be far away…
But, constant influx of new people can be too much, especially after couple of months on the road. Meeting new people, answering the same questions like "Where are you from?", "How long have you been traveling?", "Where have you been?" – it can be overwhelming. When you are traveling with someone, moments of overload are much easier – you can withdraw in your own world, world with no need for information, sounds, facts. World where one look is enough to know what you're thinking about, what are your needs, wishes, feelings.
When you travel alone you work on the quantity of intense relationships, and when with someone you orientate on the quality. To get to know one person, deeply.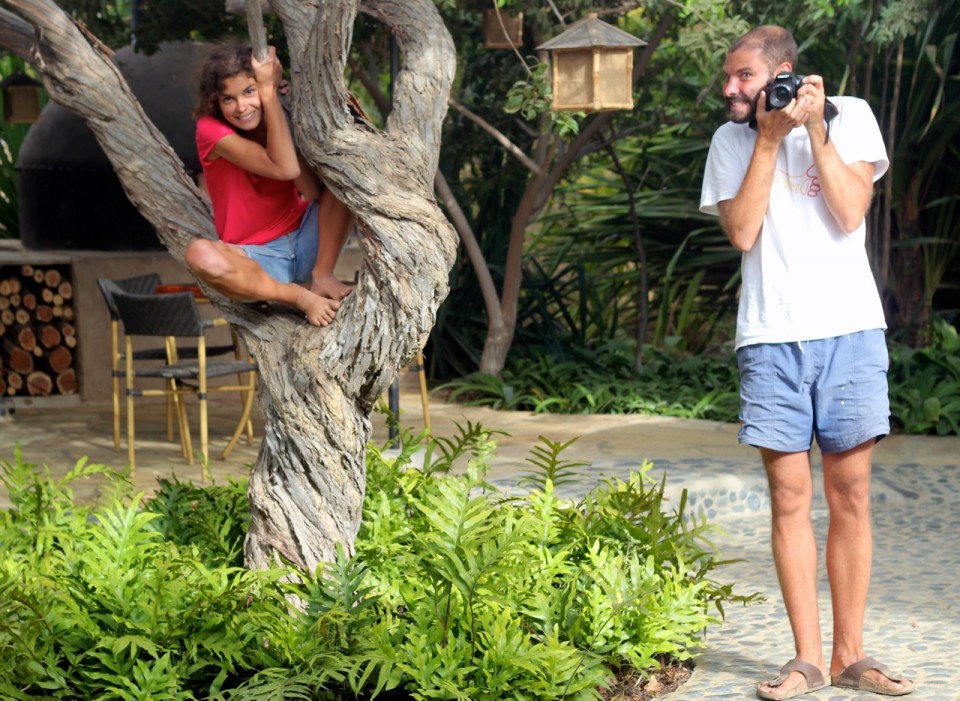 LEARNING
Like the best way to learn a foreign language is to have no one beside you speaking your language, same thing goes for bunch of other situations on the road. You will give more attention to your surroundings, people, customs, their culture. You will feel like a local in true sense of that word, because nobody will be beside you reminding you who you are and how you should behave.
On the other hand, traveling with someone can be motivating – you have someone beside you telling you to pay attention to odd things, they can help when something needs translating or haggling. You have someone that you can rely on when you don't want to learn, when you want to take a break from too much information.
—-
As you can notice, there is no better/worst option when it comes to traveling alone or with someone. Both have their (dis)advantages, and depend on many things – especially about your current interests and wishes, but also on partner compatibility.
At the end – there are no guarantees. No one can tell you will it be beautiful or awful, no matter are you traveling alone or with someone. There is only one way to find out – try it out for yourself.
Any way.
I mean, if you don't like it, you can always make a change – leave the person you are traveling behind, or take a companion on the way.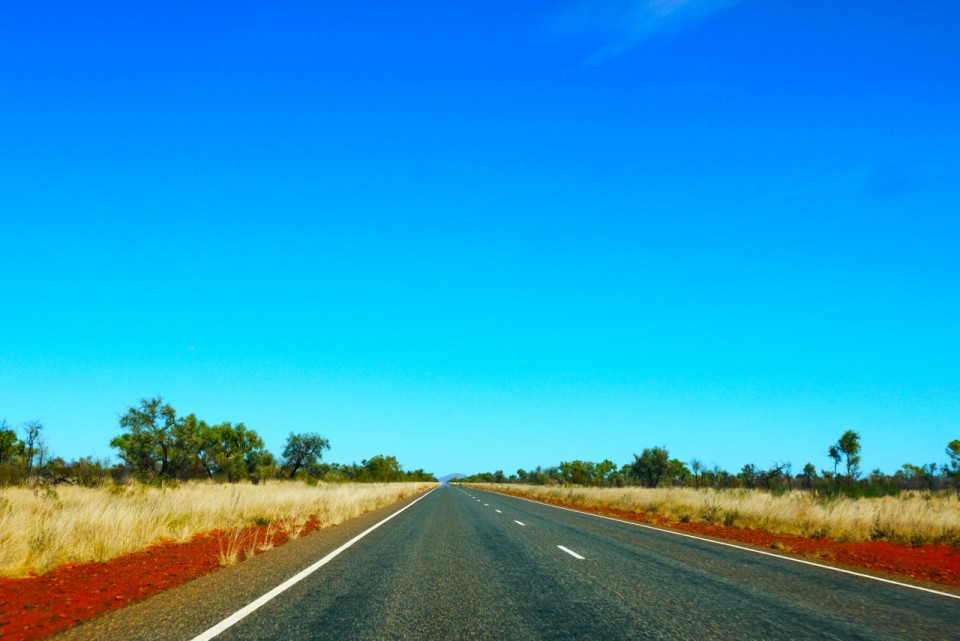 Do you have some piece of advice?
Manu | 16 October 2012 | 4 comments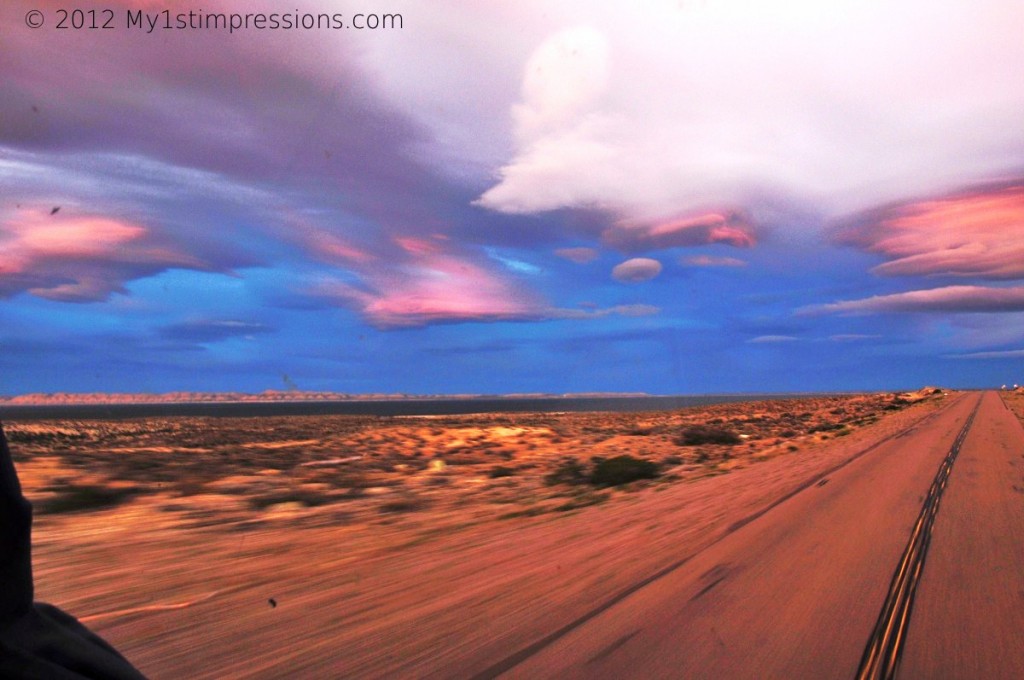 Sunset on the road
As you may already know at this stage I do love traveling alone.
When I decide to travel alone is most of the time not only by chance but it's my choice, and the more I travel by myself the more I like it.
There are several points that make a solo travel something to aim for.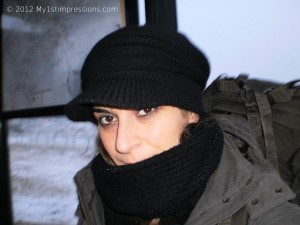 The day I arrived to Iceland, for the first time
First of all the preparation. It's only about you. You decide when you take the ticket to go and when you go, you decide what to see, where to go, what to do and even at what time to wake up (always an important factor for me!).
One of the things I hate the most when I tell people I am going to go somewhere is the fact that I have a lot of candidates who wants to join. Fine, I don't mind, but all of them they just say that, they just say they want to come with me, but then when I buy my ticket they always find an excuse not to get theirs. It happens all the time, and by now I have learned not to care of them anymore and not to wait for anybody. At the end if anybody really want to join he or she does it, without asking too much. I don't like to waste my time for people I know they won't come.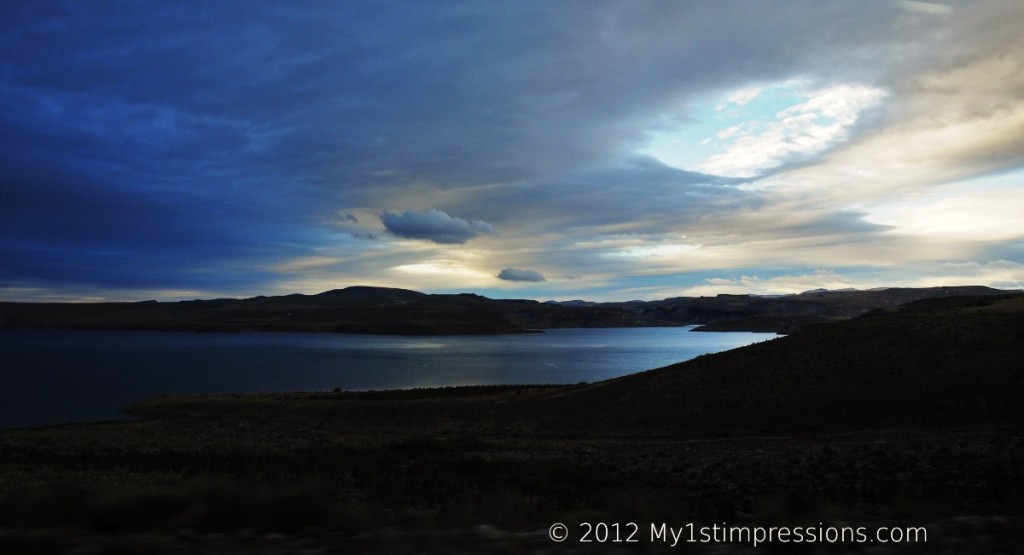 Sunrise, somewhere in the Patagonian Pampa
If at least once you have been traveling alone, you know it's an experience that is unique and unforgettable. When you are out there, alone, you are much more open to the world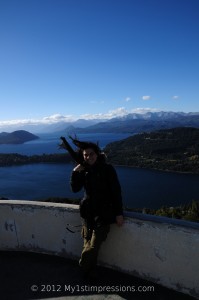 On the top of Cerro Campanario, in Bariloche, the most windy place ever been!
surrounding you and to your own self. You learn to listen to your inner voice, that makes you stronger. Your fears become your possibilities, as you know nobody is there with you and for you and the decisions you make are your own decisions.
If you haven't done it yet I always suggest to do it at least once. It makes you grow and when you come back you know you are much stronger, and all the travels you are going to do after will seem so much easier. Solo traveling help the traveler that is in you to come out and to define your personality.
This doesn't mean I dislike to travel with others. I don't. It's still great to share some steps together with friends outside the daily life, discovering something new and having some great time to remember forever. Traveling with others is a way to build amazing memories in a friendship. I love it, especially if you travel with people you have a strong connection with, it helps to make your link stronger and more special. I had some great trips with some great friends in my life, and now that I don't share my daily life with them anymore, as my paths have gone far away from them, we both still remember that crazy time of fun and discovery together.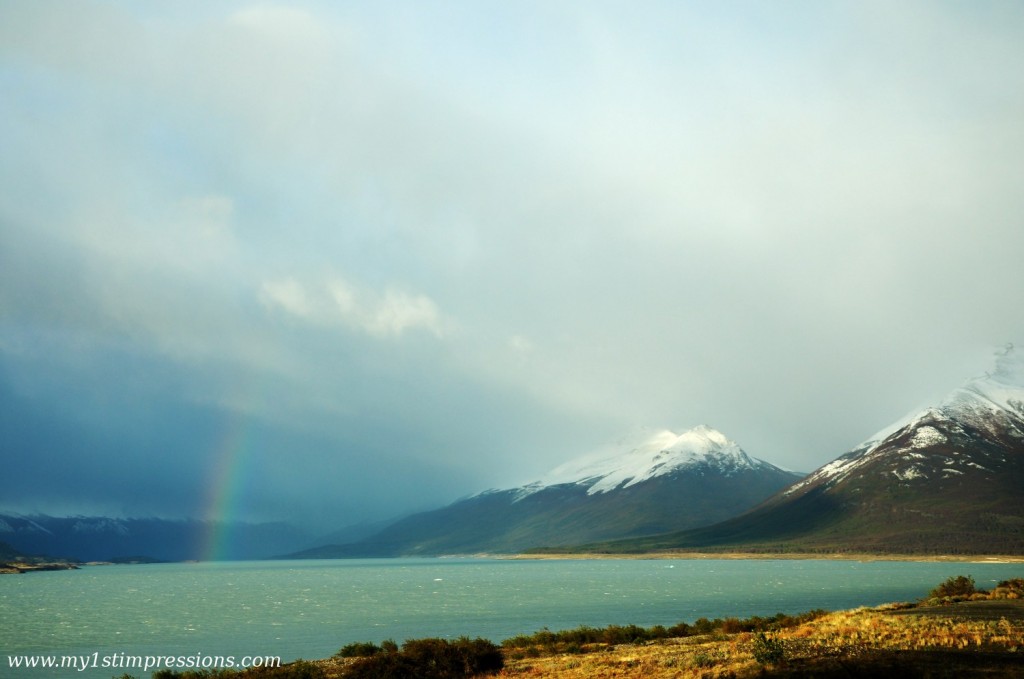 Yes, into the raibow!
Traveling alone is totally different. I have been asked often if I am not scared of going alone, if anything happens to me. Well, I am not anymore, but of course I must be twice careful with everything, and at this point I am used to that.
The first time I traveled alone was in Scotland, back in 2003. After that amazing trip in a country that I learn to discover little by little through its amazing people and landscape, I got such a strong connection with that land that I use to come back up there at least once a year. After that time, I went solo traveling lots of other times, including my 2 trips to Iceland in winter and the one to Patagonia.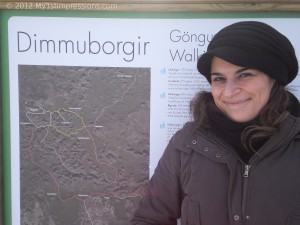 At Dimmu Borgir, Iceland
In Patagonia for a moment I was afraid I was not gonna make it. It was when I discovered that the bus trip I had to take, from Buenos Aires to Bariloche, was going to last 22 hours. I took that bus and I was really afraid of how I would have faced such a long time alone on a bus by night, as the distance was huge, and I was literally in the middle of nowhere alone and with nobody knowing where I was. When I tried to fall asleep on that bus it was so weird. I didn't know exactly where I was, I just new I was in the middle of the Pampa, far away from Buenos Aires, my starting point, and even more far away from my destination, Ushuaia. I felt sad and scared for a moment to do all this by myself, without even the possibility to communicate with anybody. That night there was a storm in the Pampa. The lightnings were shining on the desert, enlightening the shapes of that amazing places. Everything was dark and silent, and I could only see what was outside when the lightnings were shining in the sky. It was one of the most amazing moments in my life. Everything was so incredibly beautiful, even the darkness. I thought that moment was really like the life of everyone, dark and silent, until some lightnings shines on you. And even thought it is scary it's actually in that moment you can clearly see where you are. That night, before I fell asleep, I realized how much I love this, how much I love that moment as well, the possibility I choose to have , to be in the middle of nowhere somewhere in Patagonia and how free it made me feel to be there, to make it by myself, no regret at all, no fear anymore, just the willing to keep going and arrive to the End of the World.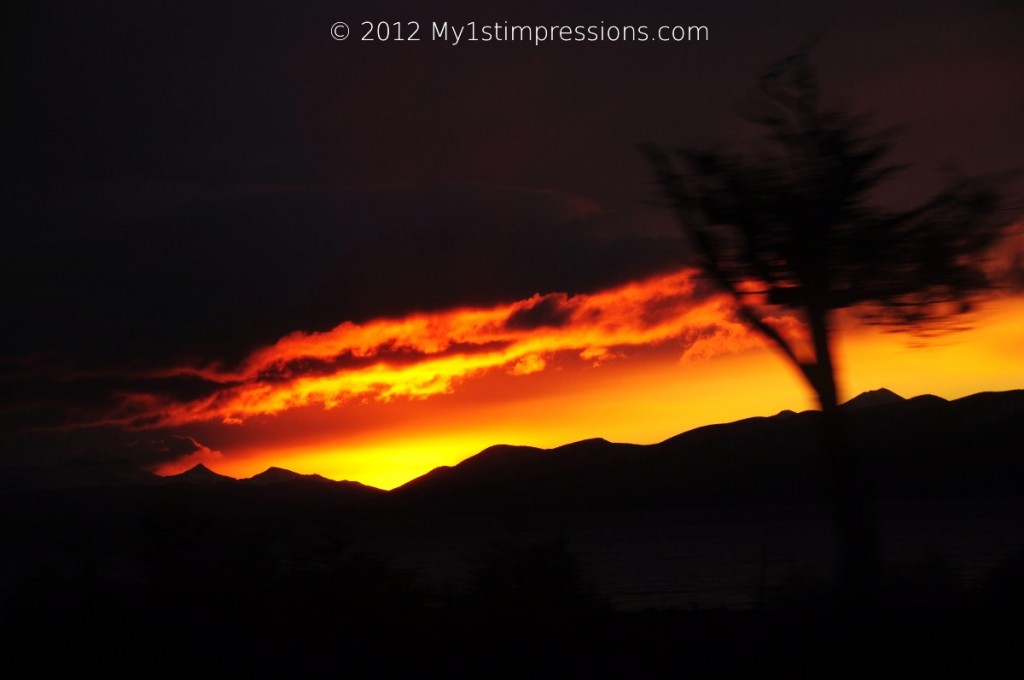 One of the many incredible sunsets I saw on the road
After that long trip everything became more possible and easier. I did some more, and even longer. From Bariloche to El Calafate I was on a bus for 28 hours no stop, but nothing mattered anymore. After that, even now, I am not scared of the distances anymore. Now 4 hours by bus or by train seem nothing to me anymore. And even going to the other side of the planet alone is just an incredible adventure rather than something to be scare of.
Traveling alone enhance your senses and your social attitude. As you are alone you are much more opened to the others and everyone, every conversation, every moment spent with people become an opportunity to discover something more and not being alone, every person met on the road while alone gain much value as he or she become someone to share a precious moment with, he or she become a mate, a company a precious value on your loneliness on the road.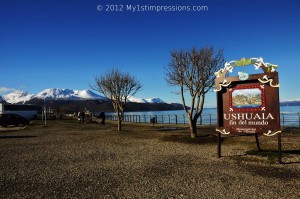 At Ushuaia, the World's End
I simply love it. I love being by myself when traveling, deciding the path to go, the destination, how to get there, the people to hang around with, and most of all enjoying the landscapes, both human and natural,and enjoying my feelings and the flow of emotions that always keep guiding my steps.
It seems weird but in a certain way when you travel alone you value much more the company you get. When you decide to do a travel together with someone you already know, a partner or a best friend, it usually finishes to be like an honeymoon, where especially if you are in two, you don't meet anyone else outside your tiny and cozy group. When you travel alone you always find yourself sharing some great moments and memories with amazing people, an evening at the pub, in a hostel, with some you share some days together, with some others you keep going together with for a while, and most of the time you gain a friendship forever.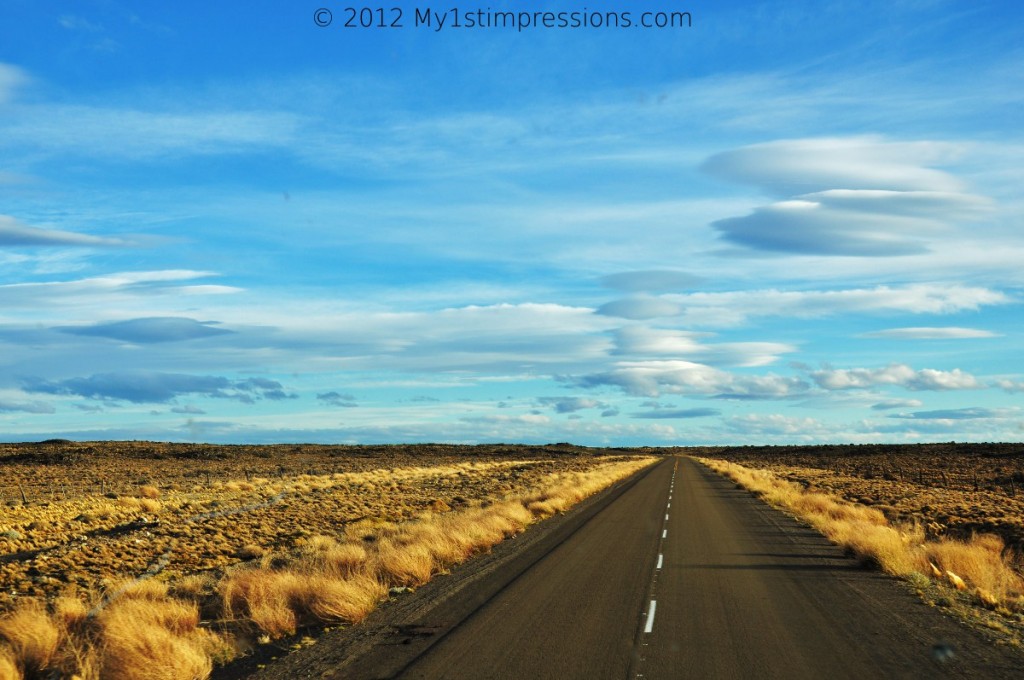 Along the road…
When you come back from a trip alone you come back much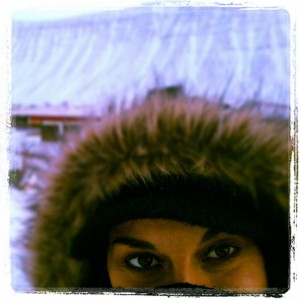 In Isafjordur
strongerand sure and happy. I love the feeling of speaking about my trip slowly, I don't have to keep talking about it with others if I don't want. Most of the times I don't know what to say about my trip on the first days I am back. I need to absorb it, to understand really where I went and what I made. I love the fact that in this process there is nobody to disturb me, as usually happens when you travels with others and you find each others talking for days only about all the things that happened. I love to remember slowly, to enjoy my memory, to grow with them and once I am ready, I finally start talking about it, trying to share some emotions that at an earlier stage would have been too amazing to mention. At that point, when I start realizing where I went watching a map of the world I get what they call saudaje of my condition on the road, of my freedom, and I think it's the only way and time I really fall asleep always with a smile!